Products
Commercial Cotton Candy Machine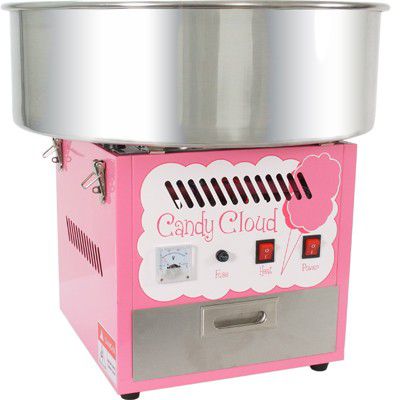 COMMERCIAL COTTON CANDY MACHINE - Table Top Model
$259.99 - *Free Shipping
The Candy Cloud Machine has a commercial grade, 950-Watt spinner that can easily heat up in 2 minutes and operate continuously. Each cone takes about 30 seconds to make once the spinner has warmed up and the ingredients have been added. The Large Stainless Steel Bowl helps make collecting the Cotton Candy easy and gives everyone the advantage of looking like a Cotton Candy Pro! The Candy Cloud also has a built-in Stainless Steel storage drawer that makes keeping everything together easy. It has more than enough room to store Floss Sugar, spare cones, and anything else.
FEATURES
Stainless Steel Bowl is secured by 4 Vibration Reducing clamps

Extended Sugar Scoop makes placing sugar in the spinner safer and easier

2 Button Operation, Turn Power on and Heating Element on.

Volt display to ensure proper power is supplied.

Can handle continuous use and will yield 1 Cotton Candy Cone every 30 Seconds

Large Storage Drawer with dividers helps keep supplies out of sight, but close by!

Simple Operation, Make Cotton Candy like a pro!

Heavy duty rubber feet help to eliminate vibration to surrounding equipment.

Built-in fuse for safety in kitchen areas

Safety feature won't allow heat to be left on without unit spinning

Fast Warm up time, usually 2 minutes!

*Free shipping in the Continental U.S.
---
‹ Back